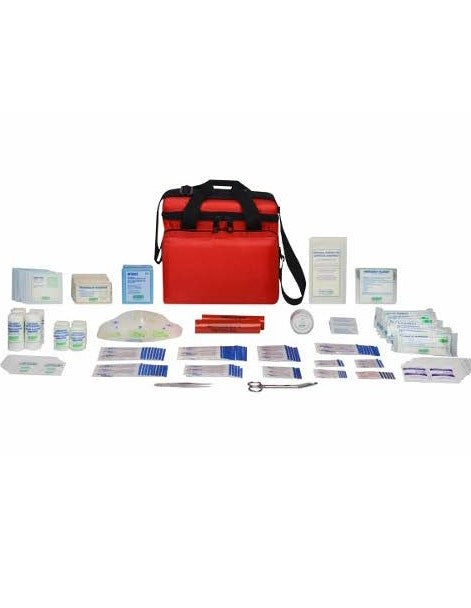 First aid kit CSA, type 2, large, (51-100 workers)-nylon bag
SERVOXY INC
Regular price $109.00 Sale
First aid kit CSA, Type 2
First Aid kit CSA, Type 2, Basic, Large,

(51-100 Workers), Mini Trauma, Nylon Bag, Bulk

Meets the minimum Canadian Standards Association First Aid Kits for a Type 2, Basic, Large (51-100 Workers Per Shift).

The CSA Standard provides general requirements for workplace first aid kits, specifies a classification system for the kits and sets minimum requirements for the contents based on the classification. It also provides requirements for the selection of kits based on various workplace environments, the containers and the markings of the containers and ongoing kit maintenance.

Bulk packed.
Content List
| | | |
| --- | --- | --- |
| Qty | Units | Product Name |
| 2 | EA | Abdominal/Combine Pad, 12.7 x 22.9 cm, Sterile |
| 24 | EA | Bacitracin Zinc, First Aid Antibiotic Ointment, 0.9 g |
| 1 | BOX | Benzalkonium Chloride (BZK), Antiseptic Towelettes |
| 1 | EA | Blanket, Emergency, Foil/Mylar, 142.2 x 203.2 cm |
| 8 | EA | Compress Bandage, 10.2 x 10.2 cm (4″ x 4″) |
| 4 | RL | Conforming Stretch Bandage, 5.1 cm x 1.8 m |
| 4 | RL | Conforming Stretch Bandage, 7.6 cm x 1.8 m |
| 1 | EA | CPR Face Shield, w/One-Way Filtered Valve |
| 2 | EA | Fabric Bandages, 2.2 x 3.8 cm, Heavyweight |
| 25 | EA | Fabric Bandages, 2.2 x 7.6 cm, Heavyweight |
| 5 | EA | Fabric Bandages, Fingertip Large, 4.4 x 7.6 cm, Heavyweight |
| 3 | EA | Fabric Bandages, Fingertip Small, 4.4 x 5.1 cm, Heavyweight |
| 8 | EA | Fabric Bandages, Knuckle, 3.8 x 7.6 cm, Heavyweight |
| 5 | EA | Fabric Bandages, Large Patch, 5.1 x 7.6 cm, Heavyweight |
| 2 | EA | Fabric Bandages, Small Patch, 3.8 x 3.8 cm, Heavyweight |
| 48 | EA | Gauze Pads, 7.6 x 7.6 cm, Sterile |
| 2 | EA | Infectious Waste Bags, 15.2 x 22.9 cm |
| 16 | PKG | Nitrile, Medical Examination Gloves, Powder-Free, Large |
| 24 | EA | Paws, Antimicrobial Hand Towelettes |
| 10 | EA | Plastic Bandages, 1 x 3.8 cm, Junior |
| 20 | EA | Plastic Bandages, 1.9 x 7.6 cm |
| 5 | EA | Plastic Bandages, 2.2 cm Circles |
| 15 | EA | Plastic Bandages, 2.5 x 7.6 cm |
| 1 | EA | Scissors, Bandage, 14 cm |
| 1 | EA | Splinter Forceps, Fine Point, 11.4 cm |
| 1 | RL | Tape, Clear Plastic, 2.5 cm x 9.1 m |
| 8 | EA | Triangular Bandage, 101.6 x 101.6 x 142.2 cm (40″ x 40″ x 56″), Non-Compressed |